Tome for Game Masters | 2022 Edition
A downloadable session journal
Tome also comes in print!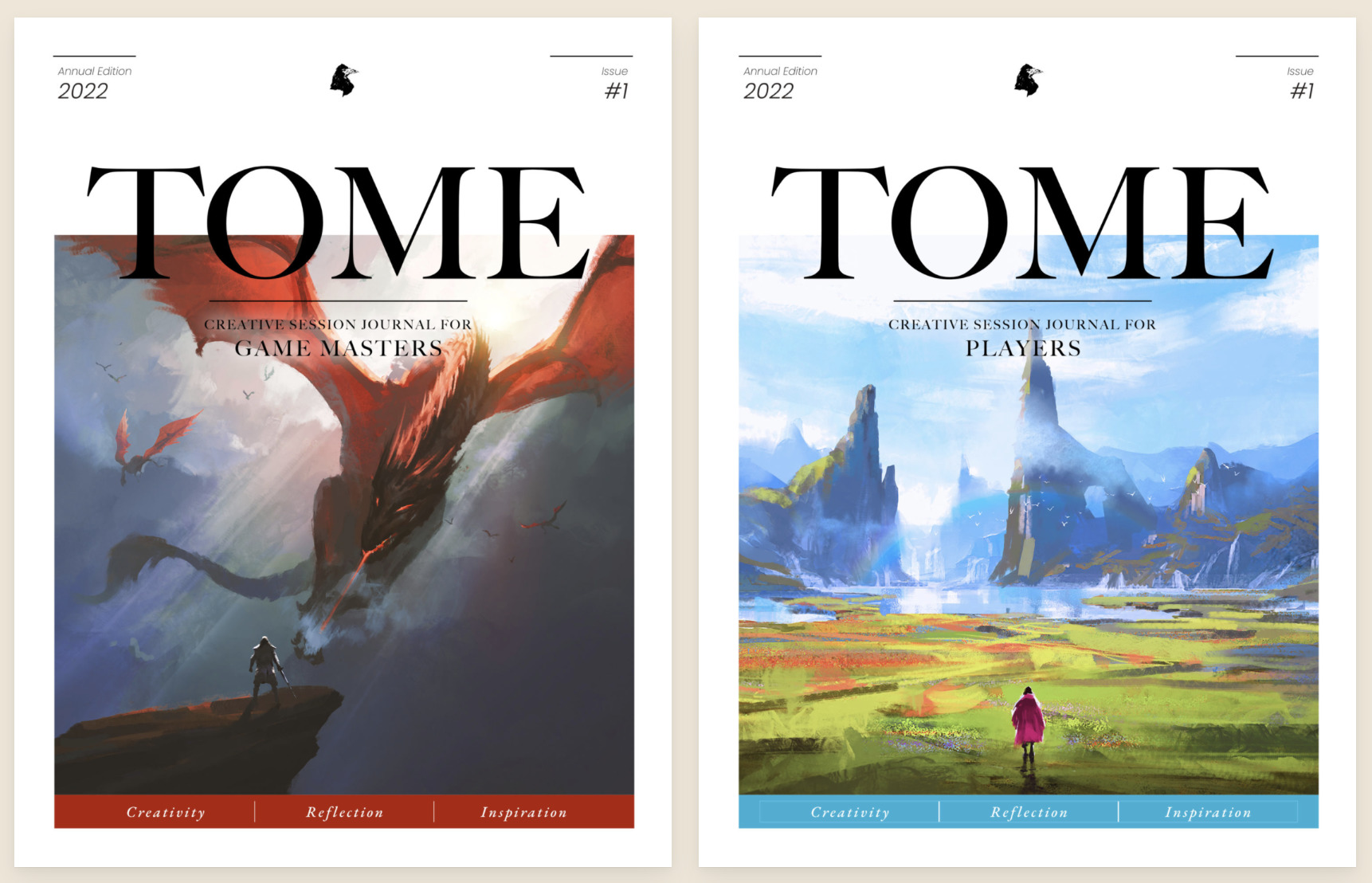 Order the physical book for Tome from DriveThruRPG and get 50% off the digital copy. Just choose the option for "PDF + Softcover, Standard Color Book" on Tome's page on DriveThruRPG.
Tome, created for both Game Masters and Players is a new creative journaling experience built for the talented, dedicated folks who run and play in tabletop roleplaying game campaigns.
Both of these tools have been crafted to aid you as you progress through your current campaign, helping to keep creativity and fun front of mind while assisting you in building new experiences for your games.
As someone leading these campaigns, Tome for Game Masters is built to help you take a higher level view of the characters embodied by your players and their behaviors, the world outside of the immediate scope of play, and the things you'd like to get from the experience of leading this game. You'll tease out new secrets to hide from (or share with) your players, new details about the world they inhabit, and what challenges might be brewing without their knowledge.
Each week, flip open to the next entry in this book (or to whichever you'd like to explore), consider the prompts presented, and record your answers. They are aimed at 'priming the pump' of your creativity, and getting you into the right headspace for a weekly session, and occasionally helping to come up with something entirely new.
Finally, each week includes a recap page to record the highlights of what happened during that week's session, a spot to think about goals for the next session, as well as a fun activity aimed to entertain and help generate new ideas.
Let's get started!
FAQ
How does Tome for Players differ from Tome for Game Masters?
As above, Tome for Game Masters has been crafted to help those leading tabletop roleplaying games, as opposed to those playing in them (though obviously a lot of us do both). While Tome for Game Masters pushes you to gather new inspiration for the world in which your players are exploring, Tome for Players will encourage players and challenge them to explore more about their character, that character's feelings towards their party members and the world around them, and to think more about how they themselves play the game and what kinds of things they might like to experience. Some folks might find it useful to have both, some might use the Players version when acting as a GM (or vice versa), but in general this is where the main differences would be.
What if I can't think of a good answer to one of the prompts?
If you have a hard time thinking of an answer to a question, or your answer is simply 'no,' that's okay! It can sometimes help to ask 'why' in response to this kind of answer or try to tweak the initial question a bit. If the answer is still 'no,' you can always draw a nice picture in that prompt's space, or write a lil poem.
My session prep style doesn't exactly fit with these kinds of questions, or I don't plan ahead in the ways some of these prompts ask me to. Can I still use Tome?
Absolutely! I don't even necessarily plan as far out as some of these prompts, or try to predict what my players will do (spoiler alert, it's never what I think they'll do). These prompts are aimed primarily at generating new ideas or inspiration. You don't have to use those ideas right now. They can be saved for later, dropped into another campaign, or dismissed entirely. This whole thing is a creative exercise, and you can use what comes out of it however you like.
Do I have to complete all of the exercises in the book, like the Contemplating and Reflecting sections?
Nope! All of these exercises are meant to help you examine your experiences from new angles, or to put things into words that you might not have considered much before. They are meant to guide and assist, but by no means are they mandatory. Just like all of the prompts and activities in the Weekly Spreads, do what engages you most and leave behind anything you don't find useful.
Should I be sharing any of these answers with my players? If they're using tome for players, should I ask them to show theirs to me?
This is a super common question, and the answer is the most unsatisfying answer in the world: it depends.
It really is a question of individual preference, and of the group as a whole. There shouldn't be an 'expectation' of someone sharing their Tome entries with you, as that's not the point of these exercises. These prompts are focused on imagining and exploring, and thinking you have to 'show your work' ruins that whole vibe.
That said, if you have an answer you might like to share with your players, or if they want to share something with you, it's obviously up to you. The families and friends we make in this game are often the people who we most love to share with. So if you want to, and everyone is comfortable, share away!
Purchase
In order to download this session journal you must purchase it at or above the minimum price of $9.99 USD. You will get access to the following files:
Tome - Game Masters (Digital, Full Art).pdf
490 MB
Tome - Game Masters (Digital, Print Friendly).pdf
27 MB
Community Copies
Support this session journal at or above a special price point to receive something exclusive.
Donate a Community Copy
For $20 you'll get your own copy of Tome for Game Masters and donate a second copy for those in the community to claim. Support the community and gain some inspiration!
Community Copy
NOTE: Community copies for our titles have been flying off the proverbial shelves faster than people can claim them. If you would like to be notified when new blocks of copies for Tome are being added, you can get on the list here.
If you're in need or cannot afford a copy of Tome, help yourself to a community copy of the game! We want everyone to be able to experience this creative tool.
This is the full digital version of Tome for Game Masters, including all additional files added in the future.
Community copies of Tome are limited, but more will be added as copies are donated and sales are made.
Comments
Log in with itch.io to leave a comment.
It seems the community copies and donations are inverted.
Thank you for the heads up! Not sure how I managed that one 😂
Hi! The files have the same names as the Tome for Players. Is that correct?
Thank you for letting me know! Not sure how I got the Players version uploaded to both pages. I've fixed the issue, and they should reflect their relevant files now.